Why Professional Movers Are Necessary To Move A Piano?

Pianos are really an antique piece that would give elegance to the place where it is kept. They stay with a majestic appeal and are really an asset. However when it comes to moving, piano is perhaps one of the most difficult items to transfer during a move. And it is extremely important that you must find a mover who has professionalized training and skills to move a piano without causing any damage to it.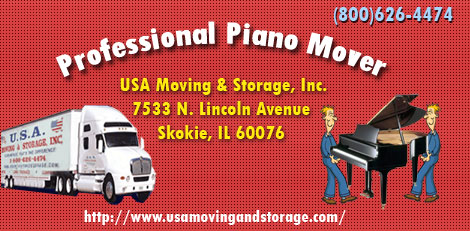 The need for hiring a professional piano mover arises since they would be provided with the right training and equipments to move the pianos. This would make sure that the instrument is moved without causing any damage in the appropriate manner. It is true that moving a piano is not a child's play. The pianos are hard to move since they are very heavy and delicate instruments. Without proper preparations, the piano moving can be a nerve wracking task. It is prone to damage and accidents can occur very easily. The most difficult part would be wheeling a piano out.

For avoiding all these hullabaloos, it would be best to hire a professional piano moving company. Many people have a false notion that they would easily move the piano themselves. And they end up facing accidents and then they would call in the piano movers. Prevention is better than cure and hence it is better to call the moving company in the beginning itself than face the damages later. Small mistakes can lead to serious problems and can cause severe damage to your piano.

Every piano moving company would be equipped with specific moving instrument and trained professionals. The tools would be strong so that the piano would be secure in their hands. The movers would have special lifting equipments, transporting devices, pads, covers and straps which ensure the safety. These tools are specially designed for moving pianos. The professional piano movers give extra care to wrap the piano properly. The pianos are wrapped and padded to keep it safe from any dings that occur during the transportation. The padding usually is an assortment of things. But it is kept in place using moving tape.

Experience and professionalism plays an important role in determining the reliability of the company. Piano is a precious possession and you must make sure that it is in safe hands.


Full Service Company
Local and Long-distance
Residential & Commercial
Professional Piano Movers
Small & Large Moves
Overnight Storage
Long-Term Storage
Climate-Controlled Storage
Loading & Unloading
Packing & Unpacking
Licensed, bonded, and insured
Free onsite and video estimates