Chicago moving company USA Moving and Storage is pleased to announce that it has been honored by Celebration Media, U.S. (CMUS) as one of the 2010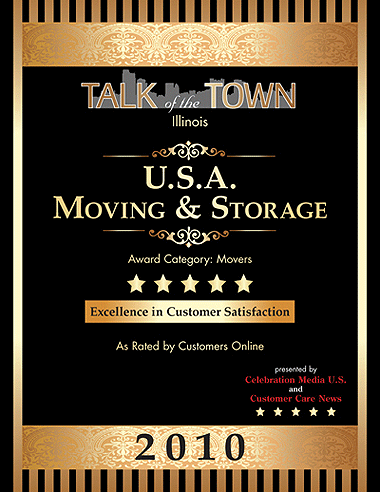 Talk of the Town Award Recipients in the category of top Moving companies. This is the second year CMUS has honored companies with the prestigious Talk of the Town Awards. It is also the second consecutive year that USA Moving and Storage has been a recipient.
The Talk of the Town Award recognizes a host of businesses and professionals who have been noted by their customers for their excellent customer service. Customer reviews were compiled from several user driven review sites including Yelp.com, CitySearch.com, Google Local, YellowPages.com and Superpages.com. The award was then based on research criteria standards that include points for number of reviews, comments and star ratings given by customers.
With the amount of positive customer satisfaction ratings USA Moving and Storage has garnered over the years, it may not come as a surprise that the moving company was a recipient of the 2010 Talk of the Town Award. "Our company works extremely hard to be the best at what we do" says Jerry, long time manger of USA Moving and Storage. "We're not out to win awards, we're here to provide quality moving services. But we won't say that we don't sincerely love the reviews and recognition – especially based on direct feedback from our clients! We are very appreciative. Knowing that our hard work is paying off in the form of satisfied customers is the ultimate award".
The reception of the 2010 Talk of the Town Award for the USA Moving and Storage comes on top of having already received an A+ rating and 2009 complaint free award from the Better Business Bureau, as well as the Angie's List Super Service Award for 2009. USA Moving and Storage is renowned for maintaining high standards of customer service and providing unmatched levels of moving services within the Chicago moving industry.
To check out the awards, read the reviews or to find out information on the company's moving services, visit the USA Moving and Storage website. The website also provides a plethora of helpful articles to assist those who will be moving. The articles cover such topics from doing background checks when selecting Chicago moving companies to explaining moving insurance and giving tips on packing pre-move to help keep the move cost down.
About USA Moving and Storage, Inc.:
USA Moving and Storage offers full residential moving services from packing to loading to transportation and storage for your household goods. Office moving services are also available. In addition to experience as professional piano movers, we specialize in packing and moving unusual objects such as art pieces or antiques. From heavy glass table tops to antique grandfather clocks or fine art, USA Moving and Storage offers competitive prices for any size move. Their moving and relocation specialists will explain all the phases of your move.
They are a professionally licensed, insured and bonded moving company. As such, USA Moving and Storage complies with all terms stated by the Illinois Commerce Commission's standards for insurance coverage, handling, loading, moving, and unloading property. They are a five time winner of the Better Business Bureau's Complaint Free Award and also hold an A+ Rating from the BBB. USA Moving and Storage has won Angie's List Super Service Award for seven consecutive years (2003 through 2009),
For information, free moving quotes or to schedule a free moving estimate, contact a representative of USA Moving and Storage. The toll free number is 1-800-626-4474.


Full Service Company
Local and Long-distance
Residential & Commercial
Professional Piano Movers
Small & Large Moves
Overnight Storage
Long-Term Storage
Climate-Controlled Storage
Loading & Unloading
Packing & Unpacking
Licensed, bonded, and insured
Free onsite and video estimates