USA Moving and Storage Inc. provide cheap and best piano moving service around chicago local area.

It is common knowledge that pianos are expensive musical instruments and are a lot more valuable than some used furniture. Moving a piano certainly calls for a fair degree of expertise which most movers of household effects, may lack.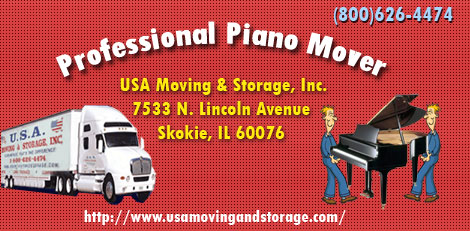 Many of us may be unaware of the fact that there are special movers available who exclusively specialize in the transportation and storage of pianos. Piano movers will understandably charge you higher rates as they are doing a skilled job and also assuming responsibility for the safe transport of the instrument. Even though professional piano movers may be expensive, they are often worth the cost.

Please know a piano is a fragile instrument, artistically crafted and weighs 1500 pounds, and it needs to be handled with utmost care. By entrusting the shifting of a piano to a professional piano mover, you can rest assured the instrument will reach the end destination in perfect condition. Your furniture movers will not charge you anything extra for the piano as they are not aware that transporting piano calls for separate expertise.

Apart from its seemingly bulky appearance and irregular shape, a piano is a complex musical instrument with over 1000 moving parts and 200 finely-tuned strings. If shifted around carelessly any number of these moving parts and strings can get damaged necessitating large scale repairs. Repairing of pianos that are damaged in transit can prove a tedious and costly affair.

If once damaged, even competent repairmen will find it difficult to restore the original tuning and finish despite best efforts. The intricate inner workings of a piano demand hiring the services of an expert piano mover. These professionals understand pianos and the art of moving them, safe way to lift and twist a standard upright piano to get it out the door, to how to properly dissemble and reassemble a grand piano before and after delivery. This is the reason why many piano movers keep tuners and piano repairmen on their payroll, and provide intending movers a list of professionals available with them.

In all likelihood, the piano movers may visit you're your home to inspect your piano. The rates these special movers quote will depend on many factors such as destination to which the piano is moved, if intermittent storage is needed, the distance involved, any narrow entranceways, intervening pillars and staircases etc. This is because negotiating the piano in such circumstances will be more challenging, calling for greater care and more manpower.

Extreme temperatures, high and low humidity and poor storage facilities can seriously damage your piano. It is worth paying extra to have your piano stored by someone who you can be trusted to handle it right.

However reputed and reliable the movers may be, you must bear insurance in mind. You must get insurance for your piano before you shift it and special piano movers will be able to guide you on that. Professional piano movers are usually transport companies contracted by piano manufacturers to move pianos to retail showrooms from the factories.


Full Service Company
Local and Long-distance
Residential & Commercial
Professional Piano Movers
Small & Large Moves
Overnight Storage
Long-Term Storage
Climate-Controlled Storage
Loading & Unloading
Packing & Unpacking
Licensed, bonded, and insured
Free onsite and video estimates