Piano Moving Specialists

A Piano mover has special skills of shifting piano from one place to another. Whether you're moving piano between two floors or relocating it from one place to another it requires great skill to prevent damage to the instrument and injury to the movers. To avoid damage to the instrument it is important to have an insurance coverage.
Most of the people take help of friends and family for moving the items of their home to cut costs. But it would be considered best if you hire a piano movers for moving the piano. Pianos are considered quite heavy; they range from 300 to 1.300 pounds in weight.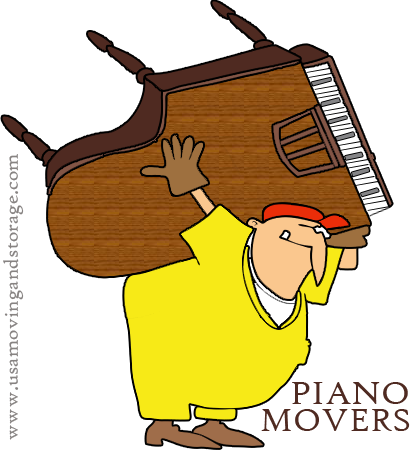 As it is difficult to move piano from one place to another, a piano mover generally works as part of a team of two to five professionals. Normally he utilizes two important pieces of equipment: a piano dolly and pads.
Piano moving presents a fairly high risk for damage to the instrument and the customer's home as well as injury to the mover. Thus it is important that a piano mover secures insurance to cover any mishaps.
The best way to move a grand piano is on a grand piano dolly, but if the piano has to go through doorways it will probably have to go on its side. For this kind of moving, a self-lifting piano truck is best. The legs may be removed, but it is not a good idea to remove the keyboard. Some professional movers might suggest this.


Full Service Company
Local and Long-distance
Residential & Commercial
Professional Piano Movers
Small & Large Moves
Overnight Storage
Long-Term Storage
Climate-Controlled Storage
Loading & Unloading
Packing & Unpacking
Licensed, bonded, and insured
Free onsite and video estimates