Chicago Commercial Movers
Transporting goods can be an intimidating task as it demands proper packing and wrapping to ensure that the goods reach the end destination in a safe condition. Besides, you will have to identify and hire a reliable and reputed commercial mover that responsibly reaches the goods within the agreed time frame.
Your concern is understandable because you would be moving heavy machines, delicate electronic equipments, valuable furniture and antiques etc. Your problems may be considerably lessened if you are in Chicago as the region has many reliable commercial movers with the required experience and proper equipment and tools to shift heavy objects.
Regardless what your specific requirements are, it's essential to hire a Commercial Moving company with extensive experience in the transportation business. The prime consideration is to ensure a smooth, trouble-free transition that does not affect your business interests before, during, or after the move.
These commercial movers comply with the standard safety measures that are essential for protecting your belongings while packing, handling, loading and unloading.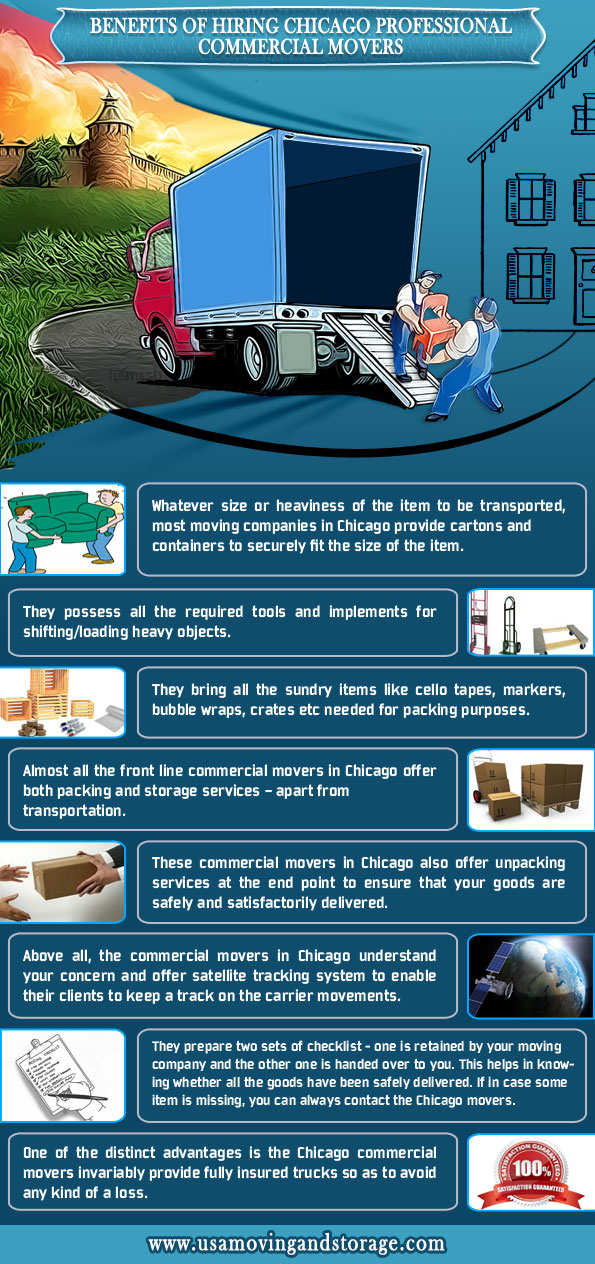 Make sure that you check the license of the moving company you intending hiring. As per the prevailing laws, every moving and packing company has to be insured and licensed. In case you are transporting goods within the city, you can hire local movers that are licensed by the state transportation department or bureau of consumer affairs.


Full Service Company
Local and Long-distance
Residential & Commercial
Professional Piano Movers
Small & Large Moves
Overnight Storage
Long-Term Storage
Climate-Controlled Storage
Loading & Unloading
Packing & Unpacking
Licensed, bonded, and insured
Free onsite and video estimates