USA Moving & Storage Celebrates Earning Zero BBB Complaints for 2009
USA Moving and Storage is a Chicago moving company well known for its top of the line moving and storage services and superb attention to detail. The moving company recently completed 2009 without a single complaint filed to the Better Business Bureau. USA Moving & Storage is a Better Business Bureau (BBB) Accredited Business, and is recognition of commitment to complete customer satisfaction. This is the fifth time (since 2003) that USA Moving has went an entire year without a single complaint filed with the BBB.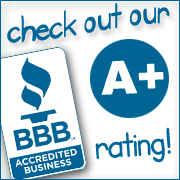 USA Moving and Storage not only does residential & commercial moving, but also specializes in moving large and unwieldy pieces such as pianos, or special objects like fine arts or antiques. "With such a wide range of services offered from piano movers or moving an heirloom grandfather clock, to a typical Chicago apartment move or office relocation with 40 employees, we need to be especially prudent in each individual move. " says Jerry, manager of USA Moving and Storage. "Although we are excited to complete so many years with absolutely no complaints, we do not do it for any recognition – we do it for our customers".

This year of zero complaints for USA Moving & Storage comes on top of having already received an A+ rating from the Better Business Bureau, the highest mark possible. The earlier rating system just assigned either a "Satisfactory" or "Unsatisfactory" rating to every company. Now, the current system assigns grades from A to F with pluses and minuses. A+ is the highest grade and F is the lowest. The BBB requires accredited businesses to build trust and maintain a positive track record in the marketplace and to approach all business dealings, transactions, and advertisements with integrity.

"Our entire staff, from management to mover, works very hard to be one of, if not the best Chicago local movers," says Jerry. "Many companies try to attain these high marks from the BBB, but many also fall short of this goal. We are very proud to have earned them in recognition for the services and dedication to our customers we provide on a daily basis".

To see more information on moving services, accolades and customer testimonials, visit the USA Moving and Storage, Inc. website at www.usamovingandstorage.com. Also available on their website are a number of articles to help inform those with upcoming moves. These include topics such as how to do background research when selecting Chicago moving companies, explanations of the various types of moving insurance and general tips on packing & moving with a moving checklist to complete in preparation for a move.

About USA Moving & Storage, Inc.:

USA Moving and Storage offers full residential moving services from packing to loading to transportation and storage for your household goods. Office moving services are also available. They are professionally licensed, insured and bonded movers. As such, the company complies with all terms stated by the Illinois Commerce Commission's standards for insurance coverage, handling, loading, moving, and unloading property. They have completed five years (since 2003) without a single complaint from the Better Business Bureau and also hold an A+ Rating from the BBB. USA Moving and Storage has won Angie's List Super Service Award for seven consecutive years (2003 through 2009), and is also the recipient of the 2009 and 2010 Talk of the Town Awards for Chicago moving companies.

For additional information, free moving quotes or to schedule a free moving estimate, contact a representative of USA Moving & Storage. The company's toll free number is 1-800-626-4474.


Full Service Company
Local and Long-distance
Residential & Commercial
Professional Piano Movers
Small & Large Moves
Overnight Storage
Long-Term Storage
Climate-Controlled Storage
Loading & Unloading
Packing & Unpacking
Licensed, bonded, and insured
Free onsite and video estimates