USA Moving & Storage has completed the 2010 calendar year with ZERO COMPLAINTS from the Better Business Bureau
Fresh on the heels of their respective eighth and third consecutive wins of the Angie's List Super Service Award (2003 - '10) and Celebration Media U.S. Talk of the Town Award (2009 - '11), USA Moving and Storage, also completed 2010 with Zero Complaints from the Better Business Bureau. USA Moving & Storage is a Better Business Bureau (BBB) Accredited Businesses with recognition of commitment to complete customer satisfaction. Since 2003 to 2010 the Chicago moving company has completed six various years not having a single BBB complaint.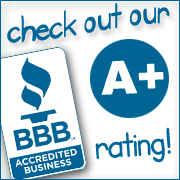 "Your company's commitment to customer service excellence pays dividends in many ways," writes BBB President/CEO, Steve J. Bernas, in a letter to the Chicago movers. "We are honored to recognize your business for superior performance in the area of ethical business practices and encourage you to continue your commitment to total customer satisfaction. "
USA Moving and Storage has been a BBB member since 2003. The moving company's diligence in providing excellent customer service "borders on obsessive", says Jerry, long time manager of the USA Moving. "We have always been very focused on our clients. Whether they're looking for piano movers, full residential moving and storage services, or just a couple of heavy items moved, our clients are the reason we're in business. People need to know that they are getting more for their money. Especially in a slow economy like the one everyone has experienced. They need to know that a company stands behind their product or service. Good economy or bad, all of our customers receive our guarantees of top shelf moving services and personal attention to the finest detail of each move."
In addition to the completion of 2010 with zero complaints, the Chicago movers maintain an A+ rating from the Better Business Bureau, the highest mark possible. The BBB's earlier rating system assigned every company with either a "Satisfactory" or "Unsatisfactory" rating. The new system rates individual companies on a scale of A+ to F, with pluses and minuses. The BBB requires accredited businesses to "establish and maintain a positive track record in the marketplace". All business dealings, transactions, and advertisements must be addressed with absolute integrity.
Information on the movers reviews can be found on the company's website: www.usamovingandstorage.com. The website also has a number of free moving resources. These include helpful moving tips covering topics that range from explaining the types of moving insurance to general tips on packing & moving. To help prepare for a move there is a form to order moving boxes and a detailed moving checklist to complete while packing.
About USA Moving & Storage, Inc.:
USA Moving & Storage offers full residential moving services from packing to loading to transportation and storage for your household goods. Corporate and office moving services are also available. They are professionally licensed, insured and bonded movers. As such, the company complies with all terms stated by the Illinois Commerce Commission's standards for insurance coverage, handling, loading, moving, and unloading property. From fine arts to antiques and pianos, USA Moving and Storage is well equipped to handle any moving job.
USA Moving & Storage achieved zero complaints for an entire year six times (2010) with the Better Business Bureau and also hold an A+ Rating from the BBB. USA Moving and Storage has won Angie's List Super Service Award for eight consecutive years (2003 through 2010), and is also the recipient of the 2009, 2010 and 2011 Talk of the Town Awards for Chicago moving companies.
For information, free moving quotes or to schedule a free moving estimate, contact a representative of USA Moving & Storage. The toll free number is 1-800-626-4474.


Full Service Company
Local and Long-distance
Residential & Commercial
Professional Piano Movers
Small & Large Moves
Overnight Storage
Long-Term Storage
Climate-Controlled Storage
Loading & Unloading
Packing & Unpacking
Licensed, bonded, and insured
Free onsite and video estimates